Would you like to relax, regain your strength and receive new impulses?
Do you search for suitable space to hold workshops, seminars or any other group meetings?
Come to Rychleby mountains to Ondřejovka.
We offer:
accommodation in a stylish cottage surrounded by forests and meadows,
usage of big attic space suitable for holding various events,
trips to the landscape that still has not been discovered by many,
views from surrounding hills where you see all around the area,
relax while enjoying massage or sweatlodge,
garden and meadow herbs for tea making or meal seasoning,
home made specialities from local producers.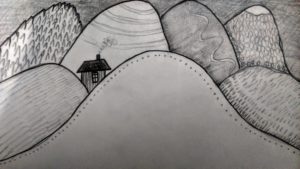 The cottage is located in Vlčice (Jeseník district) no. 53, GPS coordinates: 50.3363272N a 17.0300542E.
Who are we?
We are Petra and Ondra. With our children, we have been living in Vlčice for quite a long time. Even though we were born and raised elsewhere, we fell in love with this peaceful region and found our home here.
In 2008 we bought an old German building in the remote place, which is being renovated very finely and with style by Ondra. It pleases us that we can welcome you and offer a few days stay in such a beautiful land.
We look forward to seeing you
Do you want to visit us? Call or write and book a date.